THE 30-DAY VEGAN CHALLENGE (Online Program)
Regular price
Sale price
$39.99 USD
Unit price
per
Sale
Author Out of Stock
As soon as you sign up for this life-changing online program, you are on your way to living your best life! All of the
 information is conveyed to you by way of videos, audio podcasts, recipes, and printable resources.
Daily Messages
Recipes + Menu Ideas
Engaging Videos
Informative Podcast
This program has helped thousands of people make the vegan transition. Addressing your every question and challenge, I hold your hand the entire time, helping you to break free from old habits and to experience lasting benefits.
Share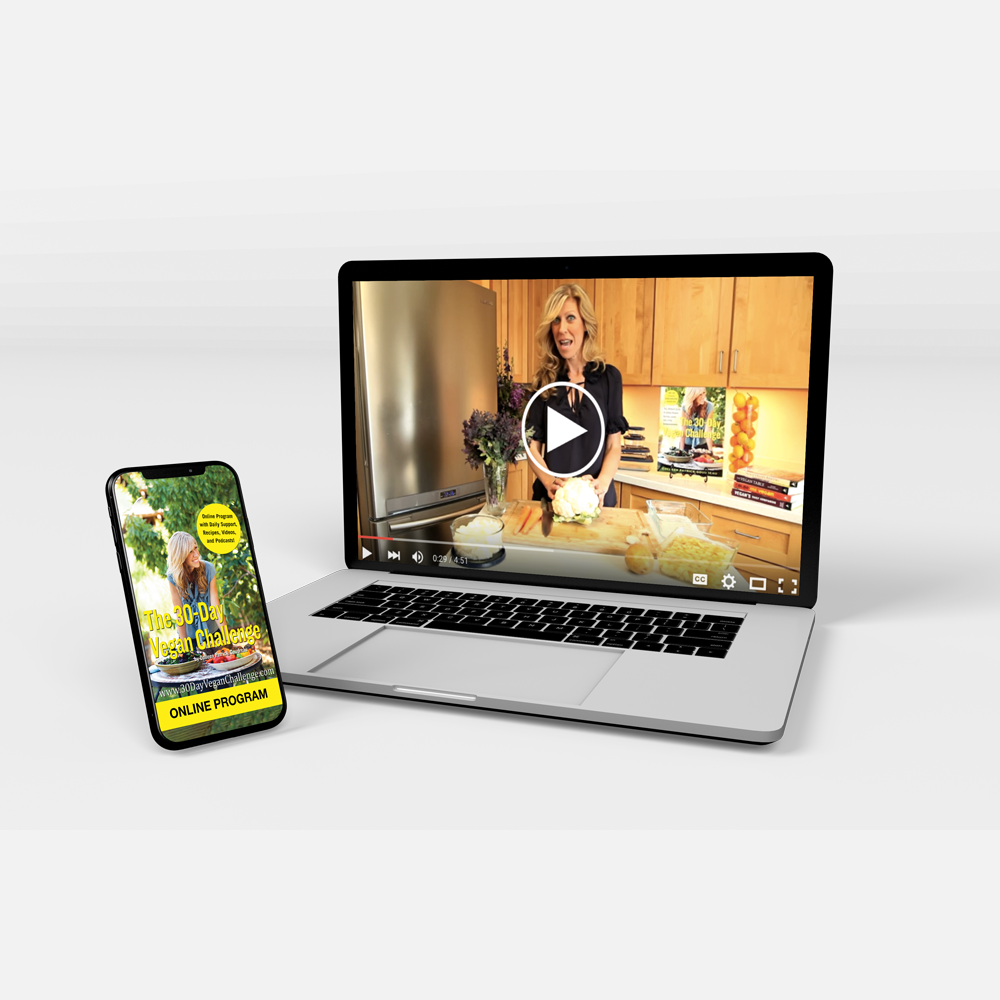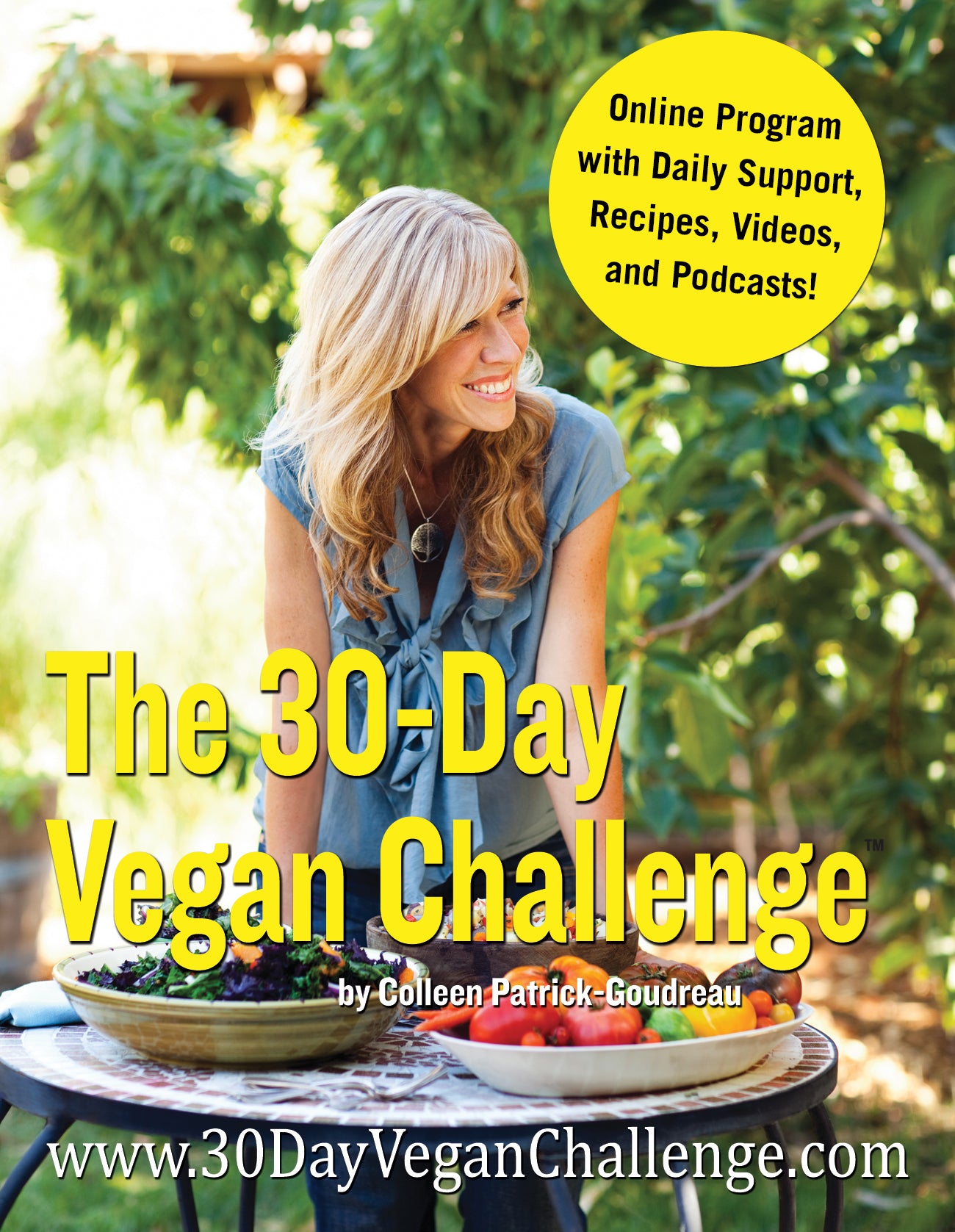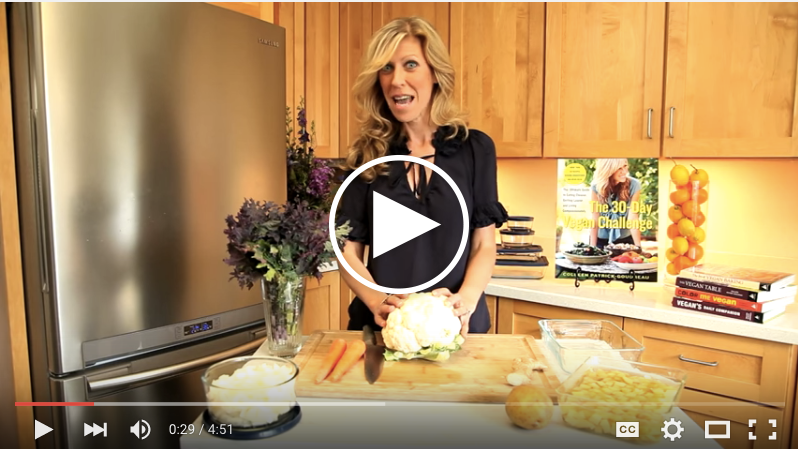 WHAT YOU CAN EXPECT IN THE 30-DAY VEGAN CHALLENGE
The 30-Day Vegan Challenge in Summary

In this one-stop, comprehensive guide, Colleen:



✓ debunks common nutrition myths and explains the best sources of such nutrients as calcium, protein, iron, and omega-3 fatty acids

✓ helps you become a savvy shopper, eat healthfully affordably, restock your kitchen, read labels, and prepare nutrient-rich meals without feeling overwhelmed

✓ offers practical strategies for eating out, traveling, hosting holiday gatherings, and attending social events

✓ provides delicious, nutrient-rich, easy plant-based recipes

✓ empowers you to experience the tangible and intangible benefits of living a healthy, compassionate life, including achieving healthful numbers for cholesterol, blood pressure, weight, & more.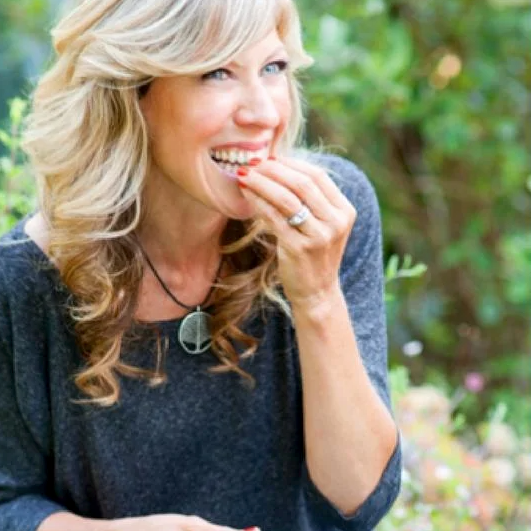 Daily Messages
Each day during the 30 days, you receive a Daily Message full of motivation, inspiration and information that will empower you as you go through this transition. A bevy of resources are included throughout the 30 days, all of which may be printed or conveniently accessed online.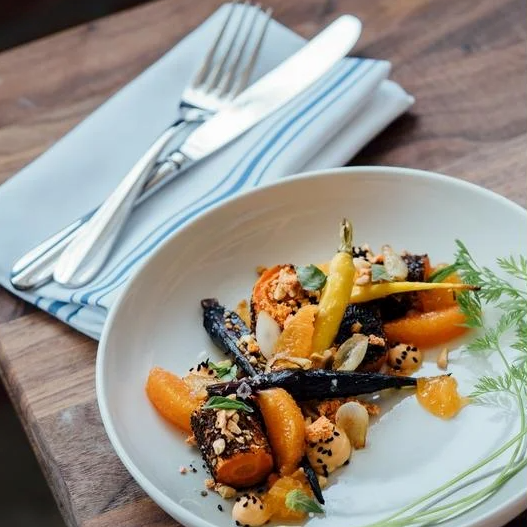 Recipes + Menu Ideas
In addition to Colleen's 500 recipes in her existing cookbooks, participants in the Challenge receive brand-new recipes. Daily menu ideas and meal suggestions are included in every Daily Message to help guide you and demystify "vegan" food.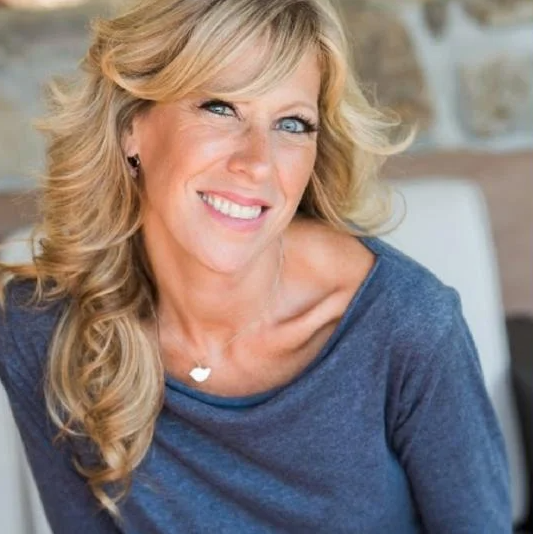 Engaging Videos
Through informative and engaging videos, Colleen helps you restock your kitchen, eat healthfully affordably, become a savvy shopper, read labels, prepare nutrient-rich meals without feeling overwhelmed, and so much more!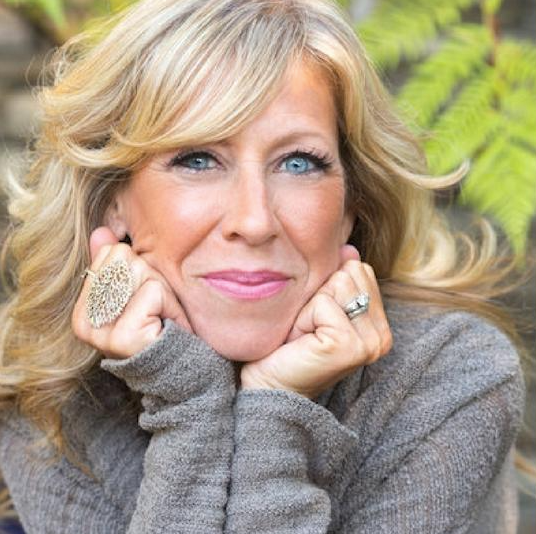 Informative Podcast
You are what you eat. It's an old adage that simply cannot be denied. By eating powerhouse food, you can prevent disease, cleanse your body, and heal conditions. Bring these super foods to your table with delicious easy to follow recipes that the whole family will love.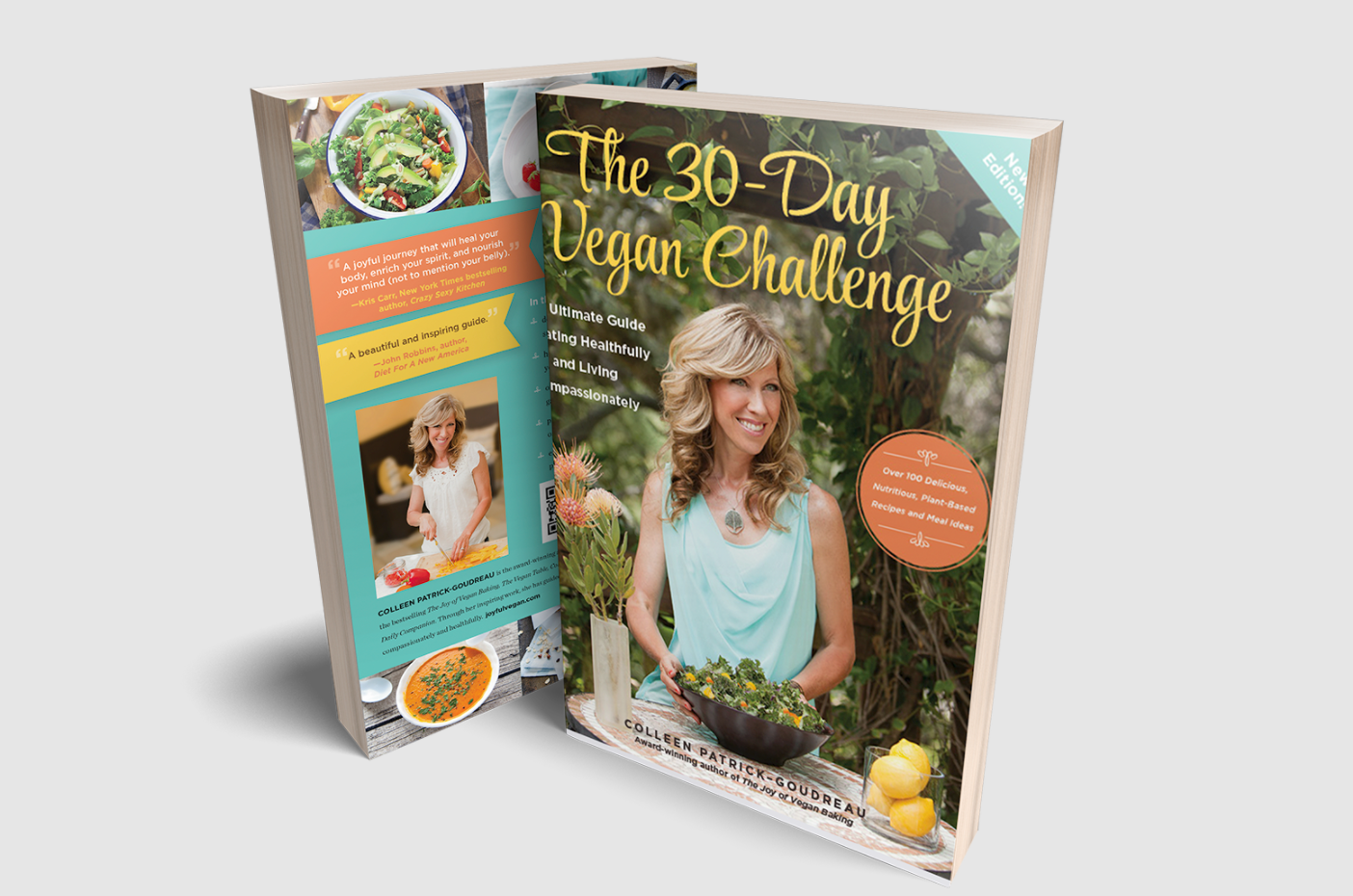 Buy the Companion Book
In addition to The 30-Day Vegan Challenge® online program, Colleen also has a gorgeous book, The 30-Day Vegan Challenge: The Ultimate Guide to Eating Healthfully and Living Compassionately to guide you on your journey. Packed with over 100 recipes, menu suggestions, and meal ideas, it's the perfect companion to the videos and multimedia content you get in the online program.
Buy Now
FAQ's & Policies
Can I start the 30-Day Vegan Challenge® anytime?

Absolutely! Registration is open to anyone, anywhere, at anytime!
What is The 30-Day Vegan Challenge™?

The 30-Day Vegan Challenge™ is a multimedia online program, created by me — Colleen Patrick-Goudreau, author, podcaster, and speaker — featuring premium written, audio, and video content to give you everything you need to support you on your journey towards optimal wellness and unconditional compassion.
Who is The 30Day Vegan Challenge™ for? 

Whether you want to improve your overall health, shed a few pounds, demonstrate your compassion for animals, help the environment, or become a more effective advocate, I give you the tools and resources you need to make the vegan transition – healthfully, joyfully, and deliciously. Addressing your every question and challenge, I hold your hand the entire time, helping you to break free from old habits and to experience lasting benefits – both tangible and intangible.
What can I expect once I sign up?

Once you sign up and receive your payment confirmation, you get your very first email welcoming you to The 30-Day Vegan Challenge™. This Welcome Email provides you with some vital information to prepare you for the next 30 days. The next day, Day 1 of your journey begins, and you receive an email each day for 30 days, plus an extra wrap-up email the following day (essentially Day 31). Each day features a different topic offered in a variety of mediums: as written material, audio messages, and videos. Each day also offers printable resources, menu ideas, meal suggestions, and recipes created just for this program. The topics for the 30 days are as follows:


-Day 1 - Taking "Vegan" Out of the Box
-Day 2 – Stocking a Healthful Vegan Kitchen
-Day 3 – Reading Labels
-Day 4 – Getting to Know the Grocery Store
-Day 5 - Eating Healthfully Affordably
-Day 6 - Trying New Foods
-Day 7 – Making the Time to Cook
-Day 8 – Starting the Day off Right: A Bevy of Breakfast Options
-Day 9 – Eating Out and Speaking Up
-Day 10 – Packing Lunches
-Day 11 – Rethinking Meat and Cheese Cravings: Fat and Salt Taste Good
-Day 12 – There is Life After Cheese
-Day 13 – Cutting out the Middle Cow and Getting Calcium Directly from the Source
-Day 14 – Plant-Based Milks
-Day 15 – Putting to Rest the Great Protein Myth
-Day 16 – Better Baking without Eggs
-Day 17 – Strong Like Popeye – Taking in and Absorbing Iron
-Day 18 – B12 - A Bacteria-Based (Not Meat-Based) Vitamin
-Day 19 – Finding Abundant Options while Traveling
-Day 20 – Skipping the Middle Fish: Getting Omega 3s from the Source
-Day 21 – Keeping Things Moving with Fiber
-Day 22 – Demystifying Tofu: It's Just a Bean
-Day 23 – Special Considerations for Particular Groups
-Day 24 – Eating by Color
-Day 25 – Eating Confidently and Joyfully in Social Situations
-Day 26 – Finding Harmony in a Mixed Household
-Day 27 – Compassionate Fashion: It's Cool to Be Kind
-Day 28 – Understanding Weight Loss – Part One – Calorie Reduction
-Day 29 – Understanding Weight Loss - Part Two – Calorie Expenditure
-Day 30 – Keeping it in Perspective: Intention Not Perfection
-Wrap up and Reflection
Will I receive recipes throughout the 30 days?

Absolutely! In addition to a ton of menu suggestions, meal ideas, product recommendations, and quick throw-togethers, I have created a number of recipes just for this Challenge. Here are some of the new recipes you can expect to enjoy:


*Creamy Leek Polenta
*Simple Bean Burritos
*Lentil Mushroom Barley Stew
*Panzanella
*Black Bean Squash Quesadillas
*Southwestern Quinoa Pilaf
*Mexican Chocolate Cake
*Green Smoothies
*Lemon Artichoke Tapenade
*Tofu Cacciatore
*Coconut Red Lentil Dal
*Spicy Red Bell Pepper Soup
*Soba Verde Salad
*Truffle Popcorn
*No-Bake Apple Crumble
*Un-Split Pea Soup
*Lemon Poppyseed Muffins
I'm vegan already. Will I get anything out of The 30-Day Vegan Challenge™?

Absolutely. The vast amount of information provided in this program is perfect for vegans who want to arm themselves with the knowledge they need to answer questions, debunk myths, and guide others. My no-nonsense approach will quite literally have you walking away each day with pithy, relevant, compassionate responses to the typical questions and challenges vegans hear.
How can I gift friends and family with the online 30-Day Vegan Challenge™?

Thanks for asking! Gift subscriptions for The 30-Day Vegan Challenge™ can be purchased here. Once you make your gift purchase and provide us with the email address(es) of your gift recipient(s), they will receive the Welcome Email that also gives them the name of the gift-giver. And the journey begins as described above.
I already own or am interested in purchasing the book, The 30-Day Vegan Challenge. Is the content of the online program different from the book?

While the email program will expertly guide you through the 30 days, the book is even more comprehensive with more resources and recipes. Although a few days are switched around, The 30-Day Vegan Challenge book complement each other perfectly.
I want to avoid/am allergic to nuts, oil, soy, wheat, gluten, [fill-in-the-blank]. Will this Challenge accommodate my specific dietary needs?

I do not advocate one type of diet (gluten-free, soy-free, raw, fat-free, oil-free, nut-free, etc.) over another, but I am always conscious of people who fall into these categories. You'll find that throughout my work – and this Challenge – I refer to various products that might fall into these categories, and in all of my recipes, I indicate whether they are wheat-free, soy-free, and oil-free.
Is the information in The 30-Day Vegan Challenge™ relevant to people who live outside of the United States?

Although specific foods and brands mentioned throughout the program may be different depending on where you live, all the general principles can be applied to anyone, anywhere. In addition, in The 30-Day Vegan Challenge book, all of the recipe ingredients are given in metric as well as imperial.
Will I be able to connect with other people taking The 30-Day Vegan Challenge™?

Yes! Having a community of like-minded people is vital to remaining a joyful vegan. Everyone who has purchased the 30-Day Vegan Challenge™ has the option of joining our private online group so you can interact with others, ask questions, share recipes, and even find people in your area also taking the Challenge.
What happens at the end of The 30-Day Vegan Challenge™? Is there still a way to receive your help and guidance?

Indeed! There are several options, and you don't have to wait until the Challenge is over! 

You can book time with me for a one-on-one conversation / consultation. 

You can book a private cooking class with me. 

You can join me on an all-inclusive vegan trip!

You can become part of my patreon community and enjoy perks. Become a patron today.

Also, my podcast, Food for Thought, is a way to get more inspiration and information before, after, and during The 30-Day Vegan Challenge. It's completely free, available wherever you listen to podcasts or on my website.
How long will I have access to the information I'm purchasing?
Where else can I buy your books?

My books are available everywhere books are sold — from small independent stores to chains. Signed copies are available through my website, which supports me directly, but all of my books are also available at the large booksellers online and offline. Some are also available as an eBook. And don't hesitate to ask your local bookstore to carry any of her books if you don't see them on the shelves.
I've been receiving each day's email, then today none came. What gives?

To prevent the emails from going to your spam folder, add the email address support@joyfulvegan.com to your list of safe senders. In most email clients, adding our address to your address book/safe senders list will do the trick.
I have a question about The 30-Day Vegan Challenge™. Who can I talk to?
Get 10% Off Your Next Order
Gift Cards
Treat yourself or a loved one! Gift cards can be redeemed for live and on-demand classes, books, and more. Buy now. Choose later.
Coming Soon
Testimonials
"Thank you for this well-planned 30-Day Challenge...worth every penny! You are so thorough in delivering useful information each day. I look forward to reading and listening to each daily email. Had no idea becoming vegan would be so easy!"

"I'm enjoying the 30-Day Vegan Challenge program so much! Thank you for bringing this program to us. I had been trying to make the transition on my own the last few months, but with your coaching and information, I am confident that I can do it!"

"If the rest of the 30 days (... er, 29) are as WONDERFUL as today, I am in for a treat.  Wow.  Thank you. The first podcast was phenomenal.  I am looking forward to this "challenge"! Thank you for all of your hard work." ~Rachel Smith
I am really enjoying the multimedia aspect of the course. I enjoy listening to the

podcasts while I'm prepping or cooking food. I save all the handouts, and the cooking videos are like getting private lessons from Colleen herself! I recommend this course to everyone, and I wish it had been available when I started my vegan journey.

Changing to a vegan diet has not only positively changed my physical self, but also I feel more at peace with my conscience and soul. Knowing that other living beings won't suffer because of my eating is a satisfaction that no one can take away. Thanks for this wonderful program!

Colleen – you are a true inspiration. My husband and I transitioned to being vegan in our mid-40s, with your help, and against heavy family resistance. We have been proudly vegan for 1-1/2 years and you continue to be a great resource for us. Thank you for all you do.
Hi Colleen! Thank you so much for your incredible support. You are so knowledgeable and inspiring. I hope to one day be able to communicate as clearly, proudly, respectfully and joyfully as you. I will continue to search your resources and follow your example. Danielle

I just needed this little push to become a vegan! Being a vegetarian for 3 years, I had some nutritional concerns, but all your support and great advice helped me finally switch to a healthy and more compassionate way of living. Thank you! Carolina

I like that you address specific issues or problems, for example how to deal with your family if you're the only vegan in the household. I took the challenge to see if I could recommend it to people who weren't vegan yet. I learned a lot and have recommended it to several people.
About Colleen
Addressing the culinary, social, ethical, and practical aspects of living vegan, my mission is to provide the tools and resources you need to live according to your own values of compassion and wellness — joyfully, healthfully, and deliciously. I'm the proud author of several bestselling books, the creator of the orginal 30-Day Vegan Challenge, and the host of the award-winning podcast Food for Thought, now in its 16th year. Visit JoyfulVegan.com for more!